January 25, 2017/ Jereh Group signed a global strategic cooperation agreement with WorleyParsons China in Beijing to better serve their customers. The two sides will conduct long-term cooperation in the field of oil and gas surface engineering, refining and chemical as well as power projects. The Agreement was signed by Jereh SVP Wan Yingzhong and WorleyParsons China President Qiu Hong.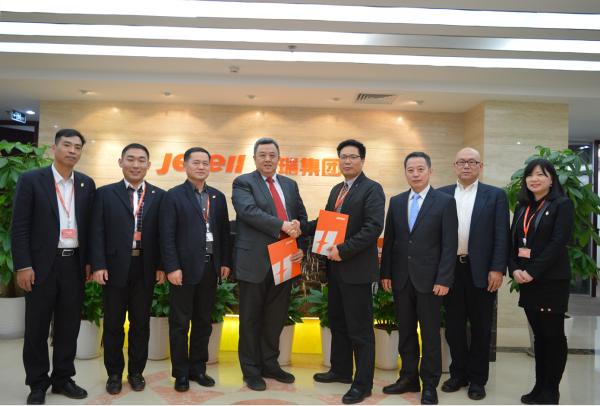 Mr. Wan Yingzhong (the 4th on the right) and Mr. Qiu Hong (the 4th on the left) signed the agreement
Jereh SVP Wan Yingzhong said: "Currently we are transforming into an integrated technology and engineering solution provider for energy development. And under the agreement, we will take the advantages of WorleyParsons on global presence and local execution to promote Jereh's global practice as well as the development of China Speed. The two companies will cooperate closely to explore more potential cooperation opportunities in the international market. "
WorleyParsons China is the largest international engineering, procurement and construction management (EPCM) service provider in China. The business provides an extensive range of project delivery and engineering services to customers in the hydrocarbons, minerals, metals & chemicals, infrastructure industries. With the Enterprise Management System (EMS), and Project Delivery System (WPMP), WorleyParsons China enjoys industry respected procurement capability in China sourcing, and successful and flexible delivery of large and small projects across multiple industries.
Jereh Group is a global investor and contractor that provides integrated solutions in the following domains: oil and gas (upstream and downstream), power, and environmental management. It offers one-stop solutions ranging from investment, financing, turnkey engineering, technology, manufacturing, to trading and logistics. By now, Jereh has been in 63 countries to promote the local energy development and utilization. And it is focused on the continuous upgrade of business capabilities and service systems including financing, engineering, design, manufacturing, procurement, operation and project management.
After the agreement, the two sides will make full use of mutual advantages: Jereh's overseas market development, investment and financing and integrated engineering solutions, together with WorleyParsons China's mature and advanced technology and engineering experience to promote deeper cooperation in the field of engineering construction projects.