February 10, Jereh Group and Shandong Dongming Petrochemical Group signed a global strategic agreement to expand long-term cooperation in the overseas oil refining project engineering, investment, crude oil supply, refinery operation and maintenance as well as product sales. Vice Chairman of the Board of Jereh Group, Li Xinyong, President of Jereh Oil and Gas Engineering Group Wan Yingzhong and Vice President of Shandong Dongming Petrochemical Group as well as Rotating Chairman of Chinese (independent oil refinery) Oil Purchasing Alliance Zhang Liucheng attended the signing ceremony.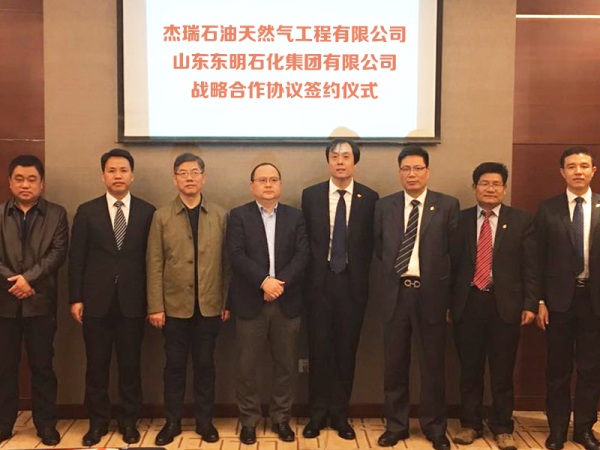 Li Xinyong (the 4th on the right), Wan Yingzhong (the 3rd on the right) and Zhang Liucheng (the 4th on the left) attended the ceremony
Dongming Petrochemical is a large-scale diversified equity petrochemical enterprise group integrating crude oil processing, petrochemical industry, chlor-alkali industry, fine chemical industry, nature gas chemical industry, engineering technology, real estate, sales terminal of refined oil product, international finance, international trade, international investment, international logistics, infrastructure and education. It is China's largest private oil refining enterprise.
Jereh is a global group that is concentrated on the markets of oil and gas, power, and environmental management. We provide integrated solutions including investment, financing, engineering, technology services and equipment manufacturing to meet the needs of oil and gas field development, oilfield services, drilling, oil and gas production, gathering, transportation, processing, storage, refining, petrochemical, natural gas fueling as well as power generation and environmental management. Now, Jereh has been in 63 countries and regions to help energy development and utilization, and is continuously upgrading the capacity and service systems in financing, consulting, research and development, design, manufacturing, procurement, operation and project management.
After the signing of the agreement, the two sides will make full use of mature experience of Shandong Dongming Petrochemical Group in the field of capital, crude oil trade, refined oil sales, refinery operation and maintenance, while combining with Jereh Group's strong overseas market development capabilities, and experience in turn key engineering to promote the deep cooperation and achieve win-win results.