A sand conveying trailor, designed and manufactured by Jereh Group was shipped to a state-owned oil field service company of Middle East. It will support the hydraulic fracturing operations in the harsh natural environment and ensure the efficiency of oil field development and utilization.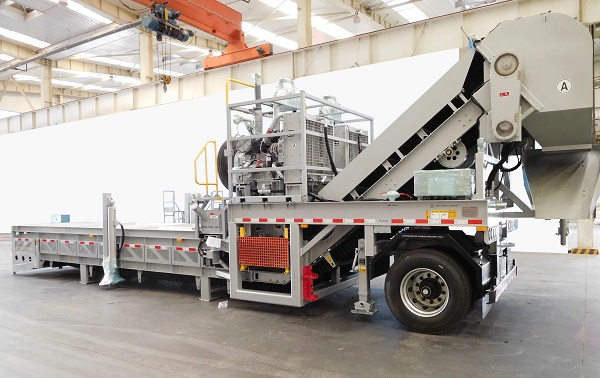 Jereh Sand Conveying Trailor Delivered to Middle East
In the Middle East, many countries have relied on their large oil and natural gas resources to support its economy. And the unique tropical desert environment has harsh requirements for oilfield operations, and there is need for the equipment with high temperature resistance, complex road conditions adaptability, corrosion resistance and good heat dissipation performance so as to meet the continuous and stable operation.
Jereh team provided custom designs, guided by the international standards, for client's needs: a full range of standby systems is equipped, including the hydraulic system, the dual power units, together or separately for the sand conveying. There is an emergency shutdown switch in the sand adding area and equipment control box, which can ensure the safe operation. In case of the failure of power units, the off board hydraulic power can continue to drive the operation of equipment. For the bumpy road conditions, Jereh engineers adopted reinforced frames and they combined assembled fences and ladder together considering the strength and weight of equipment.
"Jereh takes less than three months to complete the customization of the equipment, parts procurement and production." said the client representatvie during the equipment acceptance, who visited Jerry for equipment acceptance. Employees at any time to respond, highly responsible style of doing things, professional and technical strength and efficient after-sales service left us a very deep impression, these are a lot of big companies in Europe and America can not match, we will Jerry to maintain good business cooperation Relationship, look forward to further cooperation.
As an important part of the "Belt and Road" Initiative, Jereh Group has established close cooperation with the key countries in the Middle East through its high-end oil and gas field equipment and services. As of now, Jereh has been in the market for more than ten years, focusing on oilfield equipment, environmental management services, oil field engineering services and oilfield technical services.
"Through the wide spread of China's Belt and Road strategy, the customers of Middle East have gradually changed the views on 'Made In China'. Leaded by the national strategy, we will accelerate the international paces, and conduct more business cooperation, "said Mr. Johnson Jiang, the President of Jereh Middle East Market, "in the future, Jereh will look into the needs of equipment and services for the local energy development, while we will actively strengthen the capabilities on integrated solutions for engineering to exceed clients' expectations so that we together can achieve the efficient and environmentally friendly energy development and utilization."