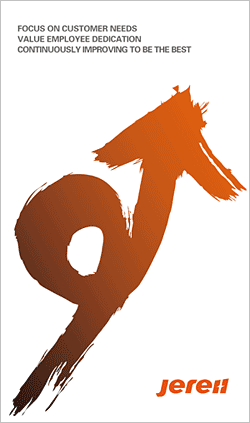 Core Values:
Focus on customer needs, value employee dedication
Continuously improving to be the best
● Jereh exists only to serve customers. Without focus on their needs, we cannot last longer than three months. To survive, we must create value for customers by satisfying their needs;
● Only dedicated employees can distinguish Jereh from the competition. Our employees are our best asset, so we value their contributions and reward them accordingly.
● As change occurs, so should our ideas. Usually what defeats a company is an internal, rather than an external force. Apathy, complacency, and numbness within the workforce can only lead to failure. Continuous improvement in an open manner assures Jereh more risk-conscious and innovative.
● Be fearless in every task, work hard and strive to be the industry's best.

Our Mission
Focus on customer challenges, provide competitive solutions and create long-term value.
Our Purpose
Create value for our customers, create wealth for the society, provide opportunities for our staff, provide a return for our investors and secure growth for Jereh's future.
Our Goal: Build a worldwide brand. Make Jereh go from success to success.
Our Vision: To become an enterprise respected by people all around the world.
Our Spirit: Always look forwards. Never give up. Nothing is impossible.

Our Credo
We can work well only with dedication. There are always opportunities for those who work hard. No pains, no gains.

Our Platform
● To establish a platform, where everyone works hard, creates wealth and shares the wealth. Always give those who work hard their share of the pie.
● To establish an eco-friendly, sincere and healthy platform and to create a pleasing and harmonious working environment for our employees
● To establish an effective business platform with complete management systems, and to achieve both the goals of the company and its employees through the enterprise's steady growth.
● To establish a transparent and highly regarded system and to make everything that is difficult, easier.

Core Competence
Employees, who dedicate themselves and directly contribute to their employment, are the most valuable resource of any company. Teamwork is the boat of enterprise's core competence. The healthier the corporate culture becomes, the higher recognition of the staff is, the stronger the core competence will become.

Quality Strategy
Create perfect quality with great care. Make progress each day.
Service Goal
Jereh is consistently focused on customer needs and dedicated to exceeding customer expectations.
Consistently focused on customer
Jereh's existence depends on us creating success for our customers. All employees must give priority to the needs of colleagues who work closely with our customers, so solutions are offered quickly and efficiently.
Exceeding customer expectations
We at Jereh not only meet, but exceed customer expectations. The more difficult the challenge, the higher the reward; customers are most impressed by us when we come up with solutions to their most demanding problems.

Marketing Strategy: Market believes no tears!
Competition in our market is tough. The only way rise above the competition is by providing the highest-quality products and services. This effort comes directly from our employees. If any individual does not perform to our company standards, they will be eliminated without hesitancy.

QHSE Management: Safety First
Jereh QHSE management system is our commitment to the safety, health and work environment of every employee. QHSE is not only required for business growth, but also demonstrates our responsibility for our people and a social responsibility, which ensures the provision of safe, reliable and high-quality services to our customers.

Competitive Advantages
● A strong, dedicated sales team that celebrate victories together and when in desperate need, assist each other to come out on top;
● A specialized team of sales engineers who have keen insights and enthusiasm about their work;
● A dedicated team of delivery managers who are trustworthy and reliable;
● A pioneering team of R&D engineers who are committed to innovation;
● A passionate team of support staff committed to providing the best customer service and impress our clients by exceeding their expectations.