Jereh is authorized the distributor/ packager of Ariel in China
On March 20th, 2012, Jereh and the world-famous natural gas compressor manufacturer Ariel held the authorizing ceremony in the 12th China International Petroleum & Petrochemical Technology and Equipment Exhibition, which marks Jereh has become the first officially authorized domestic distributor / packager of Ariel in China.
Ariel in the US is one of the world's largest professional compressor manufacturers focused on the production of high speed reciprocating compressor. With over forty years' experience of compressor manufacturing, Ariel has nearly 35000 compressors being used all over the world. The superior performance and reliability of product is considered to be the world standard of the compressor field.
Jereh is one of the earliest natural gas compressor packagers in China, with outstanding R & D capability, strict quality management system, excellent after sale services and the close cooperation with many world-famous natural gas compressor manufacturers, Jereh Group is rapidly developing into a well-known manufacturer and a leading company in the field of natural gas compressor package.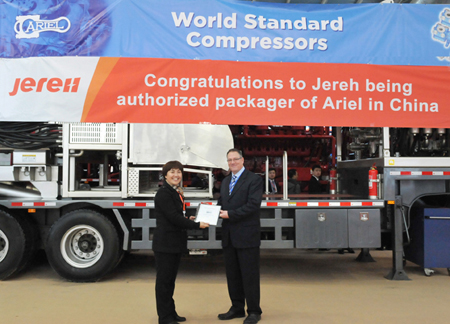 The Vice President of Ariel issued the Authorization Letter to the Vice President of Jereh Mrs. Lv Yanling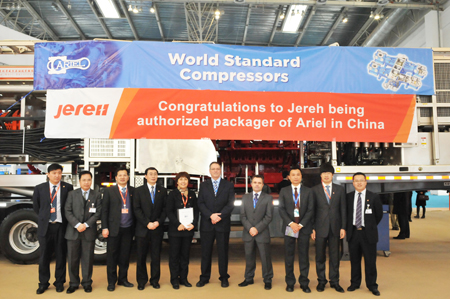 The Authorizing Ceremony