Jereh Large-sized CT Unit Creates Operation Depth World Record
On August 2nd 2010, a report about a successful operation conducted using a coiled tubing unit that was jointly developed by Yantai Jereh Petroleum Equipment & Technologies Co., Ltd. and Huabei Oilfield was published on the front page of China Petroleum.The report says, in July 2010, Jereh LGT450 large-sized CT unit successfully completed a coiled tubing towed acidizing operation on Xinken-7 well in Tarim oilfield. The 6010m down hole depth created a large size CT unit operation world record.

The previously used CT units are all small-sized due to the complicated well condition in Tarim, and operational depth could only reach to 4000m below. Yantai Jereh Petroleum Equipment & Technologies Co., Ltd. successfully developed a customized large-sized CT unit that features large size, high strength and long length. The unit successfully conducted a mission impossible for the traditional small-sized unit with smooth operation performance during the whole process. For 14 hours continuous operation under ambient temperature at 45℃ above, the unit was running in good conditions and the reliable performance is highly recognized by the owner .

Most domestic CT units being used are imported with small tubing size and low injector load capacity. In March 2009, Jereh successfully developed the first large-sized trailer mounted CT unit (LGT360) in China. Ever since then, Jereh's been focusing on develop heavy duty CT unit development based on a combined market research to improve CT application in oilfield industry. The LGT450 that works in Tarim is equipped with 2″tubing in 6500m length and an injector of 54.5 tons Max. pulling capacity, which features easy operation, strong pressure control capability and comprehensive application that can be used on drilling, fracturing, work over and so on.

As one of the most focused operations in oil industry, CT operation features such obvious advantages as low cost, small required operation area, easy transportation, few operator needs, fast operation and few accessory components, which has a direct cost-effective impact. The unit features light pollution to either ground environment or oil reservoir. It could be used for unconventional operations such as through tubing operation, directional drilling and horizontal drilling etc. By re-drilling or drilling horizontal wells on abandoned wells, the unit can also improve production and income. Due to its comprehensive application, convenient operation and maintenance, the CT unit is also called universal machine.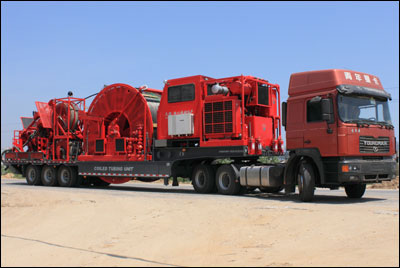 Jereh Independently Innovated LGT450 Large-sized Coiled Tubing Unit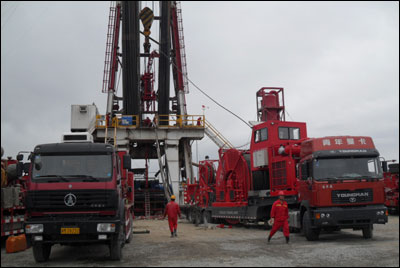 CT Unit Injector Lifting Operation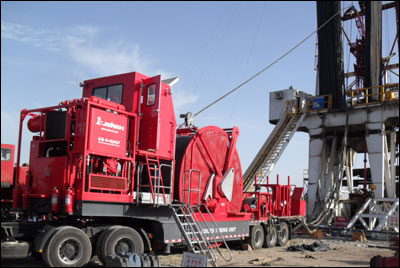 CT Unit Working on Xinken-7 Well in Tarim Oilfield