Jereh Stock Awarded "Most Growth Potential Listed Company"
Under the organization of National Business Daily together with 110 professional institutions and many media organizations, "2012 China Listed Companies Reputation List" was announced on October 20, 2012. Jereh Stock was awarded the "Most Growth Potential Listed Company" for its continuous excellent development performance.
"2012 China Listed Companies Reputation List" describes the reputation and image of A Shares companies through four aspects including Company Management, Investor Relations, Operating Performance and Business Ethics. Through ten years development, Jereh has set up a complete business framework under its vertical integration strategy to provide integrated solutions of oilfield equipment and services for oil and gas drilling, well intervention, well completion, natural gas transportation, natural gas liquefaction, environmental control and EPC services. Jereh has built worldwide sales and service centers and become a world leading oilfield equipment manufacturer and service provider.
This award shows the affirmation and recognition of capital market on Jereh Stock for its active expansion of new business. Jereh will keep on creating wealth for the society, providing opportunities for our staff, creating value for our customers, providing a return for our investors and securing growth for our future.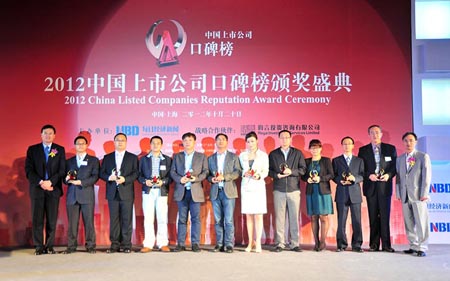 Deputy Director of Security & Investment Department of Jereh (2nd L) on the Award Ceremony